Social media marketing is a necessity for small- and medium-sized businesses.
This rings true for larger brands as well, but they are more established and have larger budgets to support a broader marketing mix. Smaller businesses must leverage internal resources and can't afford any waste.
From producing content to engaging with customers, social media offers an inexpensive way to broaden your customer base and create long-lasting relationships.
When they are executed correctly, social media strategies can help brand your business and build a strong online presence for the long term.
1. Start by Choosing the Right Platform (Audience)
For your social media strategy to succeed, you have to pick the right platform for your business.
The platform should be selected based on research. Where do your types of customers hang out the most, and what are they looking for? (that you can help them with?)
The social media site needs to be content friendly so that you can upload images, blog articles (LinkedIn, Medium) or white papers (Slideshare.net)
Instagram photos are 15 times more likely to be shared than Facebook photos, so a photo-rich industry may want to focus primarily on Instagram.
However, don't forget Pinterest, they have a powerful advertising platform as well.
Meanwhile, snippets, links, blogs and articles are easier to share on Twitter and Facebook (Instant Articles).
Finally, as mentioned – consider the locations where your prospects hang out because these will be the most effective platforms to spread your message.
2. Create Your Social Media Objectives
Once you know where you will place your content and what they are looking for, you have to decide on your goals.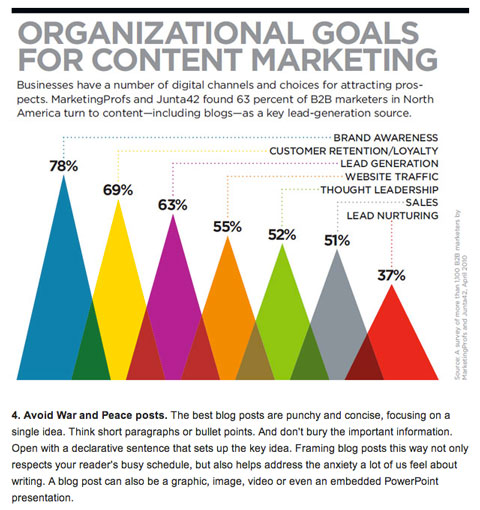 You need clear objectives because these goals will help you determine if your marketing plan is a success or a failure. In addition, you must determine the metrics that let you know if you have gained a return on your investment. (Web Analytics)
If your goal is to increase website traffic, your social media strategy is a failure if your traffic does not increase.
Likewise, a goal of bringing in leads is a failure if your content is widely shared, but does not draw in new clients.
Go a step beyond vanity metrics like Facebook likes or Retweets.
Instead, focus on how your website is generating leads, web referrals and conversion rates.
The ultimate goal is always to boost your profitability, so any plan should be designed with that in mind.
3. Design a Content Plan
While mentions in the media are always a plus, you need to have a content plan for long-term success. (Think content calendar)
Articles about your business, new products, events and related topics will help to draw readers to your website.
In addition, Google loves fresh content, and so do your users. 
Ideally, you should post at least once a week. For the best results, consider implementing a daily content goal, and refer back to your content calendar.
Your content plan should include the target audience, the frequency of your posts and the types of content you plan on posting.
Likewise, you should determine who will create the content and how it will be promoted.
Once you have answered these questions, you should set up a daily or weekly plan of blogs and social media posts that you plan on releasing.
You should also consider the types of keywords that you use because the search engines will use keywords as one of the factors to determine what your content is about.
4. Building a Diverse Content Strategy
Today, people go beyond just reading books and articles to get their information.
Videos have become a crucial part of social media success because people cannot just skim the video.
In addition, look into creating blog content and images that get placed on your social media profiles.
"U.S. researchers discovered that the human brain can interpret images that the eye sees in just 13 milliseconds – the first evidence of such rapid processing speed. It was previously thought it took almost eight times longer for humans to process a picture."
The human mind can process visual presentations much faster than words or speech, so a picture can convey your message much faster than content.
By diversifying your content, you can ensure that your business can reach out to every type of consumer.
5. Test and Adjust Your Marketing Plan
Even with the best social media strategy, adjustments will always be needed.
Before you put your plan into action, decide on the metrics that you will use to determine how successful your approach was.
Tracking things like the number of clicks from a link, visitors to the blog, leads generated and website traffic will help you determine if your social media plan needs to change.
Every business is different, so your company may need a unique blend of social media platforms or content to become successful.
NEED SOME HELP? Contact Us Here and schedule your time.



Jon Rognerud and Chaosmap work with Fortune 500 companies, small business and entrepreneurs to create digital traffic strategies that scale up customers, leads and sales with profitable returns. Mr. Rognerud wrote a best-selling book (Buy On Amazon), "The Ultimate Guide To Optimizing Your Website" (Entrepreneur). Connect directly here.